'OPERATION JANTAR MANTAR'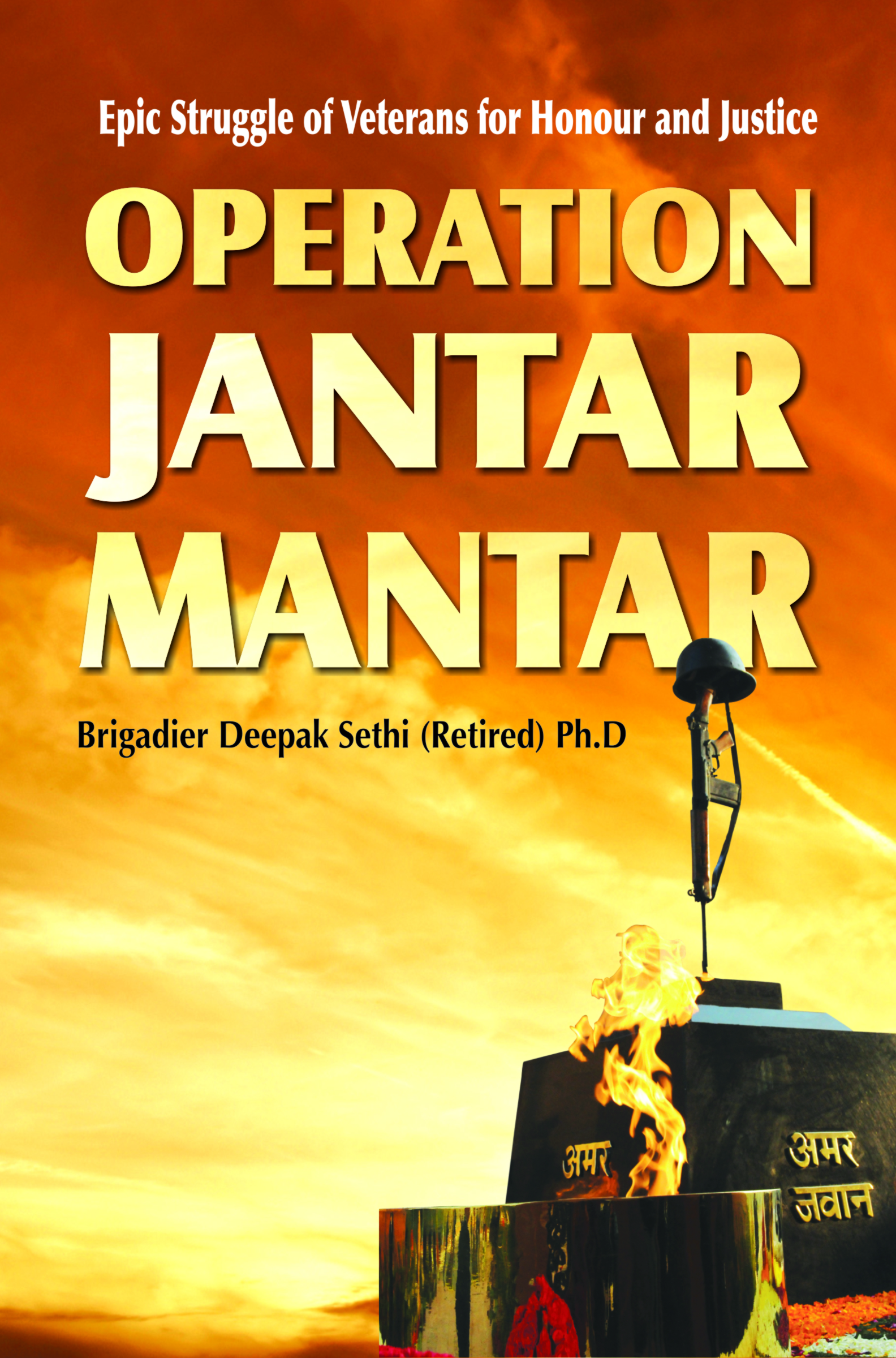 'Operation Jantar Mantar' is the title of my new book. I have started writing it after suspending work on my half-finished book, 'Muslim Radicalization and the Islamic Caliphate'. Why the sudden switch? Because it has been so painful to watch the sorry spectacle of elderly veterans, many of them disabled and infirm, on a relay hunger strike for over six weeks now. Even more heart-rending is that widows of martyred soldiers too have had to come out to join the protest. Can there be anything more shameful? The very institution that has unfailingly made the highest sacrifices for the Nation's honour and security is itself being slighted and dishonoured. Name me one country where its veterans have been forced to come out on the streets to secure justice.
It is a work of fiction – a genre I have never attempted before. But this is the only way I can give full vent to my pent-up angst, and really sock it out to the corrupt and scheming bureaucrats and politicians. This fictional account is set against the backdrop of the ongoing ESM struggle. As the book progresses towards a dramatic climax, I i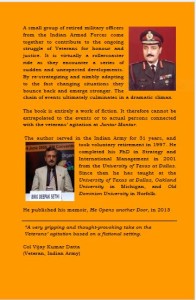 ntend to highlight the dire consequences of ignoring the surge of frustration and anger among the ESM, which inevitably would rub off even on those who are currently in service.
Please give your feedback and suggestions by using, either  the comments box below or via email to 30foxtrot@gmail.com. I might not post drafts of subsequent chapters so as not to give away the suspense that will be building up as the plot negotiates several major turning points.
Some Reviews of the Book
I sat and read the book in one go, except for a few P-breaks. In my lexicon that means that the book was 'un-put-downable'  The language and narrative were mellifluous, the characterisation and plot brilliant, the suspense gradually building  to a crescendo, made me turn from page to page waiting to  see what happens next, all the way to the happy ending. There was drama, but no melodrama. There was military logic & strategy at work, but without exaggerations, diversional sub plots, smoke screens, rambling or beating about the bush to  confuse. The fiction that you produced is almost the truth. It was precise and to  the point, exemplary military writing style.  OP-JM is a very good read. If targeting foreign audience , you may have to  provide English translations of Hindi / Rajasthani / Punjabi dialogues  as foot notes. Expand some acronyms and abbreviations in footnote. – Wg Cdr Unni Kartha (Veteran, IAF)             

Written by Brig Deepak Sethi (retd.) who now teaches and resides in USA, Operation Jantar Mantar (Op JM) is a slim volume. The author was pained at the plight of 1965-war veterans, compelled by an uncaring bureaucracy to sweat it out in Delhi's sweltering heat to demand their just dues granted by Parliament, two Governments and the Supreme Court. So, he set aside the work he was doing on Muslim Rad

icalization and the Islamic Caliphate and took on Op JM. In just a few short weeks the author has produced an insightful account of the struggle for OROP as a work of fiction – thinly disguised at times – but nevertheless very plausible and quite close to the bone.

While factually covering the ongoing agitation Op JM also provides excellent food for thought on how the Mighty State could be tackled. I found some of these ideas very practical. I will certainly urge all those who are touched by OROP and injustice done to Defence Forces by a conniving and deceitful government machinery, to make this a MUST READ. Op JM also highlights some of the OROP-plus issues – the string of duplicity and downgradation of status – commencing after the 1971 Victory! Perhaps these could have been elaborated on somewhat. Notwithstanding this, the focus on OROP is commendable – typically a Brigadier-General's 'Maintenance of Aim!' The author has portrayed the high moral courage and sterling character of many senior officers, which is fairly typical of the Indian Army – but every Army can do with more such first-rate individuals. I found their portrayal both inspiring and aspirational. Operation Jantar Mantar is a highly readable book – riveting at times – and provides excellent insights into the civil-military divide. The ramifications of the ongoing struggle on serving personnel has been well elucidated. Every citizen would be concerned about its implications on the health and morale of our defence forces, and on our national security in a none-too-friendly neighbourhood. Recommended reading!  – Maj Gen Pushpendra Singh (Veteran, Indian Army)
Operation Jantar Mantar: Epic Struggle of Veterans for Honour & Justice is a very well written book by a veteran who understands the situation on the ground in totality. It is fast paced & easy to read. The concluding chapter contains a good advice for the veterans to follow. This book should become a point of serious discussion amongst both the serving soldiers & veterans of Indian Armed forces like the movie Talvar has become amongst most other thinking Indians these days! – Brig Harish Israni (Veteran, India Army)
The book is a vivid account of the unfolding action on OROP. A must read account of the truth behind the myth. – Cdr Arun Jyoti (Veteran, Indian Navy)
A very gripping and thought-provoking take on the Veterans' agitation based on a fictional setting. – Col Vijay Kumar Datta (Veteran, Indian Army)
Sneak Peeks
Sneak Peek 3
"Some ideas had been tossed around but nothing was decided. You've just joined us, so let's pick your brains. Any ideas?" 
"Scale and form of our protest will depend upon the contingency," said Tipsy. "Let's consider them. Best case scenario is: Govt accepts OROP without any dilution. Do we still continue our protest, given that we had earlier decided that OROP is only the start of our struggle for honour and justice?"
Tipsy answered it himself, "I don't think we will since; 1. Govt's acceptance of OROP will likely be on the condition that we stop our agitation right away. 2. Our agitation has gone on for over three months now, under gruelling conditions. Given their age and health most ESM will want to return home. 3. Public and media won't support us, and will view us as being unreasonable and obstinate."
"Another important issue is that our goal of securing 'honour and justice' isn't well-defined. Are there any clear-cut benchmarks? Let's say, it has three components; A. Restoring the eroded inter se parity with civil services; B. Systemic changes in Pay Commission structure, DESW etc. C. Reform Higher Defence Organization as recommended by various Committees. The big question is how long will it take to attain them? What form of agitation can last that long."  
"I agree entirely," Subbu said. "I do understand our angst about 'honour and justice'. But how do we achieve it? Undoing 67 years of Machiavellian mischief of the Babus in one stroke isn't possible. It reminds me of mythological movies. Picture this; All Chiefs perform long penance to please the Lord, chanting 'Namo, Namo, Sainiko ke Bhagya Vidhaata, hamara sammaan lauta do'. The Lord is pleased and says, 'Tathaastu' and voila, we suddenly find we've become superior to all the 'asuras' of Babu-lok. Aisa ho to mazaa aa jayega."
After the loud guffaws, it took a while for everyone to regain composure. The point was valid; Subbu had this innate gift of driving home his point, using slang, naughty jokes, hyperbole, or whatever. All concluded that although our grievances and overall objectives were valid, a prolonged agitation, maybe in a different form, will be required to attain them. Unless of course, a political tsunami or a major disruptive crisis triggers an immediate and total overhaul of the system.
Tipsy resumed his contingency analysis. The next scenario is; Govt puts OROP in cold storage, using any ploy like referring it to the 7th Pay Commission. Then the choice is clear; the agitation will have to continue. Even if evicted from Jantar Mantar, it must continue in an escalated form. It will be most essential to retain support from the public and Media.
"In my reckoning there's a third contingency, which will be most tricky. What if the Govt takes a middle path and announces OROP unilaterally, based on a tinkered definition or some other dilution?"
"Can they do that?" asked Subbu.
"Oh yes they can,"  replied Gen Satveer. "It'll be unethical since negotiations are still on, but they can claim we're being unduly adamant. It'll be a fait accompli. Govt will deposit pensions as per its terms, and ignore our protests. Will the ESM refuse such 'incorrect' pensions? Obviously no."
"Will we then give up and suspend the agitation?"
"No Subbu, we won't. But we'll have to strategize afresh. Do we take the legal route, or do we resume our agitation in a different form? It'll be a long fight. However, I'm not sure if we'll be able to mobilize veterans on this scale again."
Sneak Peek 2
Subbu did win his bet, since two days later OB vans moved in, with TV crews milling around.
"Isn't that Navita from News Now?" Subbu asked Gen Satveer. "She's Top Gun at News Now. If she's here then she knows something is afoot."
"Fine. Dekhna hai zor kitna baazue qatil mein hai."
"Hi, what brings you here today; anything special."
"No General, nothing special. Just my turn today for outdoor assignment," replied Navita sheepishly.
By then the full battery of reporters, with camera crews in tow, had lined up facing the dais. Soon a Joint Commissioner of Police arrived and handed him an envelope. Making sure he presented his best profile to the TV cameras and tucking in his tummy, he told the General he had orders to get the place vacated.
"But we've permission to hold our protest here."
"The authorities have withdrawn that permission."  
"But why? There must be some valid reason? We haven't violated even a single condition of the permission given to us."
"The reason must be stated in the envelope. I'm just conveying whatever I was directed to do."
"Has an alternative place been allotted to us?"
"I haven't been told anything about it."
"Officer; Constitution grants us the right to protest. We've permission for this venue; and there has been no violation. Neither are you telling the reason for cancellation, nor about any alternative location. I can't ask 70-80 year old veterans to stop their hunger strike just like that? If an alternative venue was being given, I might've persuaded them."
Conscious of Media presence, he mumbled, "OK, I'll check with the authorities, and return."
"I've a meeting today, but I'll be here tomorrow. Please come with a reply from your superiors."
Next morning Gen Satveer returned, and like the previous day TV crews were present in large numbers. Soon the officer arrived and said that they were now allotted a park in a trans-Yamuna colony. Even Media persons were amazed how they could come up with such an isolated and unsightly place. It almost seemed someone was being really mean-minded.
Any scholar of human relations would have found this situation interesting and instructive. TV crews must have thought, 'Ah ha; finally we'll see some action; yesterday was a big letdown. Hope we get good shots and better sound bytes than other channels'. The Police officer could be thinking, 'Yeh Fauji General bahut smart banta hai. Isne socha hoga ki sarkar is ko Ram Leela Maidan de degi. Ab yeh shanti se yahaan se chale jayein aur mera pichcha chhorein.' And the General must be thinking, 'So far so good. At least we gained one day. But now they've done a dumb thing by offering that stinking place. Even the public will find such ill-treatment of veterans revolting."
Gen Satveer rejected the place offered to them. Turning to the Media he voiced the anguish of veterans at the manner the Govt was deliberately provoking them and humiliating them.
"Why would the Govt do that?" asked Navita.
"You ask them; your channel enjoys good rapport with it. Isn't it obvious Govt is trying to coerce us and make us suspend the hunger strikes? It had thought our agitation will peter out in 2-3 weeks; that we won't have any public sympathy; and our agitation will become raucous and disruptive just like most other movements, and inconvenience the public. It was wrong on all counts."
"I don't want to cast aspersions on the Media. I do understand your constraints; after all you can't antagonize the Mighty State, even if it claims to firmly believe in 'freedom of the Press'. Please tell me how's it that all TV channels were here in full strength yesterday and even today. In the past 90 days of our agitation, all of you came here only on the day when the Joint Commissioner was to come here. Is it just a coincidence? Did all of you have a sudden collective premonition?
"I'm not sure how much of this will be aired, if at all? Rozi-roti ka sawaal hai. So please look at those veterans with handy cams recording all this. They're our VJs. By this evening it'll be uploaded on social media. Now it's up to your channel bosses to decide what and how much to air."
"Coming back to the current episode, haven't you wondered why every channel boss sent you Guys here on the same day, at the same time? Who gave them the heads-up, MHA, Delhi Police or whoever, and more importantly; why? Also tell me, which organization was ever allotted that hideous park in the remote trans-Yamuna colony for its protest?"
"What could be the Govt's motive in alerting the Media, asked Vidhi from NTV?"
"Young lady, you're a seasoned reporter; your guess should be much better than mine. But isn't it clear that the Govt wanted the police to serve the eviction notice live on National TV? And they sent their smartest and politest officer to do so; why?" Turning to the Officer, he said, "I assure you, it wasn't a tongue-in-cheek remark. I meant it."
"But Sir, you haven't still told us about the motive."
"Patience, my child, I'm coming to that. Don't you all agree that our protest has been very different from all other rallies you've covered? Public has admired its peaceful and disciplined conduct. It also appreciates the legitimacy of our struggle against Govt's injustice. Govt reckons that if it can provoke us into violent or unruly acts, our protest will lose its sheen and public's support. So, how best to do it? Be a picture of polite, reasonableness on TV, and then wait for us to give vent to our pent-up angst and frustration, and thereby media can capture 'Breaking News'. Media bhi khush, sarkaar ki to balle balle; chahe yeh buddhe, arriyal Fauji jahannum mein jayein."
"Sir, I didn't mean any offence. Sorry to have got you so emotional," Vidhi said apologetically.
"That's alright my dear, I know you didn't mean it. And you're generous; you only called me 'emotional'. There're many who call us Faujis 'emotional fools'. They're right; we indeed are 'emotional fools'. Why else would we slog 24 x 7 in the arctic conditions of Siachen or the searing heat of the deserts without any let-up? Why else would young men, barely out of teens, embrace death, not just during wars but even during peace in CI Ops?"
"And where is respite even in so-called peace stations? If it isn't training manoeuvres, there's an earthquake, Himalayan deluge, or a riot waiting to happen. If nothing else a child could fall in a bore-well due to civic neglect. And tell you what; a Chief Minister has threatened striking civic workers they would be fired, since he'll call in the Army to clean up. Who else will be willing to serve in such conditions except 'emotional fools' like us?"
"Throughout history Nations have been built on the sacrifices of 'emotional fools' who get easily moved. But wise Nations also ensure an unending supply of 'emotional fools' by looking after the NOK of deceased soldiers and veterans, by arranging grand commemorative ceremonies presided over by the Presidents and Prime Ministers, and by building magnificent memorials."
"In our Nation, that supply of 'emotional fools' is drying up. Why else would there be a shortage of  several thousand officers? I'm a third generation military man, but despite my best efforts my kids refused to join the Defence Services. In retrospect, I believe they were indeed wise. Soon there'll be no 'emotional fools' to defend the Nation. You must all hope that the very wise, unemotional, pragmatic, politico-bureaucratic class will fill the void."
"Lately, the same politico-bureaucratic class has been lecturing us about unreasonable demands and the financial burden. It's ludicrous for the Devil to quote scriptures. Will the politicians forego their ridiculously high salaries, pensions and lifelong expensive perks? Will the Babus surrender the Apex Scale and Non-Functional Upgrade that they cunningly gave themselves through the backdoor? Will Media question why even the relatives of Netas and Babus are reimbursed full expenses of their exorbitantly expensive medical treatment abroad?"    
Media persons were left wondering whether to feel amused by his repartees, or be moved by the obvious pain he felt inside. They couldn't but admire the stoic demeanour of this genial veteran, who must have borne more stress being at the forefront of this agitation in the past three months, than all the stress accumulated in his 38 year service in the Army.
Sneak Peek 1
"But, we just can't meekly disperse and go home. It'll be demoralizing; veterans will feel let down," observed Gen Satveer. "We've to decide how we can ramp up our protest. What do you think Tipsy?"
"Sir, the form a protest should take, depends upon how sensitive or thick-skinned the Govt and public are. In any other Nation, veterans returning medals en masse would be a cataclysmic event. Public and Media would express outrage, and force the Govt to back off. Sadly, it didn't create any ripples here."
"Our relay hunger strikes also had substantial public support, but didn't move the Govt. Why? It knew the public will eventually get weary What about the Fourth Estate, the Nation's supposed conscience-keeper and watchdog? Didn't sections of Media shield the Govt from adverse public opinion by fielding pseudo experts to obfuscate issues? Didn't it limit coverage of our agitation at the behest of the Neta-Babu nexus?"
"Even our fasts-unto-death haven't had any effect on the insensitive Govt. I feel this mode of protest has lost utility. If it weren't so, wouldn't the hunger strike of Manipur's Irom Sharmila for past 14 years have had an effect? It was only the moral stature of Gandhiji that could move the entire Nation with it. His fast-unto-death in Kolkata at the time of the Partition brought calm to the entire city torn apart by the insanity of communal riots. Since then assorted Netas, Babas and Swamis have only brought disrepute to this mode."   
"Between Netas and Babus, it's the latter that are blocking OROP. Barring the FM, who allegedly has a grouse against Faujis; other politicians gain nothing from opposing it. That's why we in JAI Sangraam had targeted the Babus."
"Babus won't be worried even if OROP has huge public support; their jobs are secure. Ruling party could be worried, but it can't make the Govt summarily overrule the Babus. We haven't seen that powerful a PM in a long time. Besides, like the butlers of noblemen, Babus are privy to a lot of their bedroom secrets, figuratively speaking."
"When can a PM, that too only a strong and clean one, overrule the Babus? It's possible only when the Ruling party will incur a very high political cost if it sides with the Babus to deny OROP. It'll happen only if States that have very large numbers in the Armed Forces are due for polls. At other times politicians can get away with rhetoric such as, hamaare veer sainikon ka balidaan."  
"So what options are left to ramp up our protests? We've already decided against undisciplined and violent protests, and rightly so. Hence, I recommend a mode that enables mass contact directly with the veterans and general public in States that are due for polls in next few months. Netas will be receptive only if their electoral prospects are under threat."
"However, it'll require full support of ESM groups in States such as Punjab, Haryana, Rajasthan, UP and Himachal. I'm not as yet familiar with their capabilities and the kind of support we can bank upon. Perhaps, you can put us wise on this."
"We can expect full support. They've very dedicated office bearers. But, what's expected from them? What form of protest are you contemplating?"
"Sir, I propose that upon eviction from here, we disperse as convoys of festooned vehicles carrying veterans to their respective States. In form they'll be similar to Rath Yatras of political parties, though not in substance. These convoys will pass through the hometown or village of all soldiers martyred in wars and CI Ops to pay tributes to their sacrifice. We could call them, Shaheed Sammaan Yatra."
Link to Amazon.in for Ordering Kindle Edition
http://www.amazon.in/s/ref=nb_sb_ss_i_1_11?url=search-alias%3Daps&field-keywords=operation+jantar+mantar&sprefix=operation+j%2Caps%2C224
Link to Amazon.com for Paperback and Kindle Editions
http://www.amazon.com/s/ref=nb_sb_ss_i_1_13?url=search-alias%3Daps&field-keywords=operation+jantar+mantar&sprefix=operation+jan%2Caps%2C130
Link to CreateSpace.com for Paperback Edition