CITIZENS AND SOLDIERS KEEPING INDIA'S TRYST WITH DESTINY
Paradigm for National Security and Resurgence
This is the title of my book that was published in USA in September 2018. It has a Foreword from General Ved Malik, Former Chief of Army Staff. The Indian Edition of the book was launched by Gen Malik on 15 November 2018 at Punjab University, Chandigarh.
Book Launch Indian Edition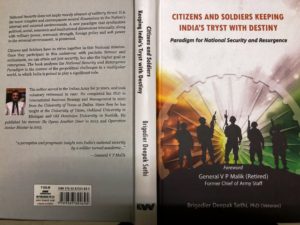 Cover – US Edition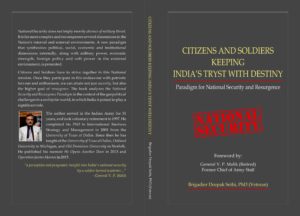 The book is in three parts:
Part 1
Chapter 1 lays the groundwork by elaborating upon essential conceptual notions about the Westphalian Nation-state, and its rights and obligations in the International world order. Different dimensions of security, both external and internal, are identified.
Chapter 2 has a very brief overview of our security environment to put into context various dimensions of the proposed National Security Paradigm.
Chapter 3 presents the National Security Paradigm, which  comprehensively integrates all elements in our internal and external environments that impact our security. Although the model can be applied generically to any Nation-state, for this book I have tailored it specifically to the Indian context.
Part 2
Chapters in Part 2 elaborate upon and analyze in-depth all elements of the National Security Paradigm that relate to threats from India's internal environment. The chapters also provide a historic snapshot; as to how and why in the past seven decades those threats have burgeoned.
Part 3
Part 3 focuses on the external dimension of the National Security Paradigm. Following a review of the global and regional geopolitical environment the chapters discuss the military, diplomatic and economic threats and how the Nation ought to respond to them. A substantive part of the analysis would cover the Armed Forces and defence manufacture, in addition to the economic and diplomatic measures.
PLEASE CLICK ON THE HYPERLINK BELOW TO ACCESS THE SECTION – "FAULT-LINES – RELIGION"